Fearless Speaking: Beat Your Anxiety. Build Your Confidence. Change Your Life.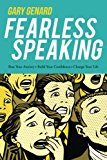 Overcoming fear of public speaking is easier than you think!
 
If speech anxiety is making you miserable or limiting your career, Fearless Speaking can change all that in as little as 12 days. Actor and speech coach Dr. Gary Genard shares his proven method that has been helping people worldwide since 2001 transform their stage fright into confidence.
Escape the negative thinking, physical symptoms, and avoidance behavior that are holding you back. This book is a practical

List Price: $ 19.95
Price: $ 14.82