Serenilite Hand Therapy Stress Ball – Rose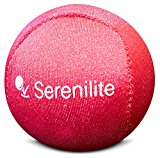 STRENGTHEN YOUR JOINTS & MUSCLES while reducing carpal tunnel & arthritis symptoms while relieving stress.
THE WORLD'S BEST STRESS RELIEF BALL squeeze and soothe anxiety away while increasing blood flow to your hands, fingers & forearms.
SPARK MULTIPLE SENSES by physical therapy and color therapy, soothing your mind and body. Increase hand mobility & grip strength.
ULTRA-DURABLE & PREMIUM stress ball made of a tear-resistant gel core. Experience maximum grip & comfort. Retains shape & smooth to the touch.
100% Lifetime Guarantee Signup PDF Included and Complimentary Hand Therapy Guide PDF both through email.
Relax.
Serenilite Stress Balls are carefully crafted to provide optimal comfort for your hands. Each Serenilite Stress Ball(2.25 inch in diameter) is carefully crafted with an ultra-durable thermoplastic rubber gel encased in an ultra-smooth dual colored lycra fabric cloth that retains its shape after every squeeze.
Get a grip!
Have many deadlines to meet? Running late to an appointment? Does the phone keep ringing? Bounce back and recuperate from daily struggles in

List Price: $ 19.99
Price: